Christmas Shopping in Dubai Ideas
Dec 12, 2022
Christmas is a time of family togetherness and joy! But let's face it, it is also a time of frenzied shopping, baking and cooking. We have gathered a selection of Christmas-themed items created by our members to make your Christmas shopping in Dubai easier.
Why Shop Handmade this Christmas?
Quality and care: Handmade items are made with more attention to detail and care than mass-produced ones. Each item has been lovingly made with the intention of joy and positivity for the recipient. They are often the result of years of practice, hours of planning and creation. They add meaning and sentiment to your Christmas shopping.
Ethical and sustainable: Most crafters are very particular about their materials and sources. Many buy locally and try to use ethical materials and packaging.
Crafts are kept alive: Every time you buy handmade, you help keep a craft or skill alive. You are helping traditional skills from the past sustain and, hopefully, be passed on to future generations.
Unique: When you gift something handmade, it is so unique because no two handmade items are exactly alike. It is also a more thoughtful and meaningful gift than a store-bought gift. Handmade gifts also start conversations about where you bout them and how to buy more. You will be helping the small business owner through word of mouth.
Supporting Local and small businesses: It is always a good idea to shop locally. It is an even better idea to support Homepreneurs Club members.
Christmas Shopping in Dubai Goodies from Homepreneurs Club Members
Christmas Yumminess
How can Christmas be complete without the snacks and goodies made especially for the season?
Our very own Pamela Elizabeth @sumthin_sweet_10 has an array of goodies for the season (and she wrote cute captions too!)
Christmas Plum Cake - All the goodness of fruits come together in this gorgeous edible thing called - Plum Cake! 30 Dhs for 8 pieces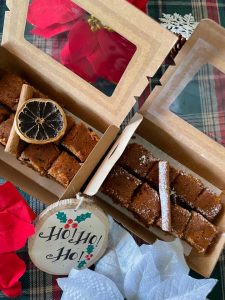 Rose Cookies - Something sweet & crunchy to get your taste buds & teeth in action! You can't just eat ONE!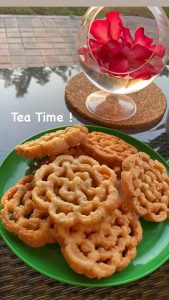 Fudgy Candy Cane Brownies - 10 Dhs a piece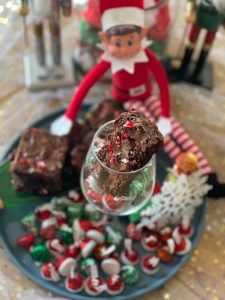 Mini Christmas Cookies - 15 for a box of 6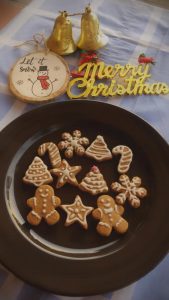 Hot Chocolate Bombs - It's not just a drink it's a feeling that unfolds in a mug of hot milk. 15 Dhs each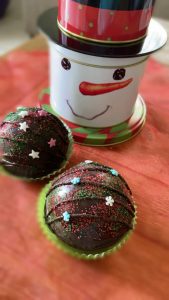 Feeling Downie Eat a Brownie - And now in its festive form. 10 Dhs each.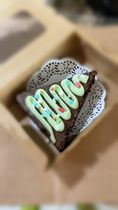 Truffles - Delectable Oreo truffles & vanilla sprinkle truffles! 25 Dhs for 6.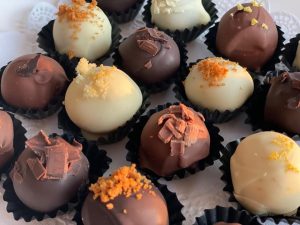 Christmas Decor
Rohita Ann Thomas @artz_by_ann has a unique and beautiful Christmas ornament available at just 20 AED!!
It is alcohol ink art on an acrylic surface!!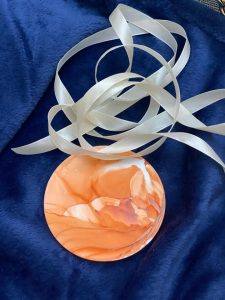 Shop a Christmas tree wooden block tea light holder- Aed 55 and a Santa decoration- Aed 10 from The Craft Safari. She has many more hand-crafted Christmas decorations and gifts at The Craft Safari.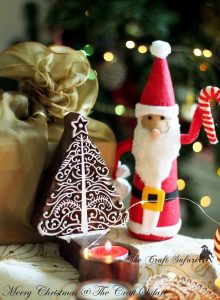 Urmila Santhosh at ArtsyUrmi.ae has many cute Mandala Christmas ornaments to choose from for your Christmas shopping in Dubai. They are made of wood and are 5 cm in dimension. Dhs 20 each.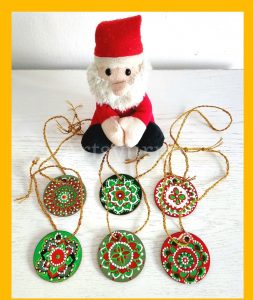 Insiya at InsysCraftCreations makes adorable tree ornaments that you can also attach to Christmas gifts.
Christmas Gifts
A great Christmas-themed gift is a canvas pouch also by Inisiya at InsysCraftCreations. Buy to gift, and buy yourself one too. The pouch measures 8.5 x 6.5 inches, making it versatile. She also makes many personalised Christmas gifts in Dubai that you can choose for your loved ones.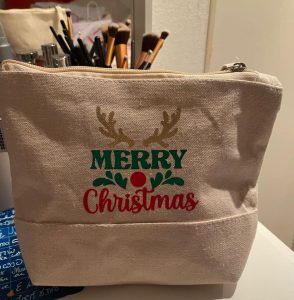 Don't have time for a full-sized Christmas tree? Buy a Christmas-themed plant arrangement from Meenakshi MeenaCGarden_Dubai. Her beautiful creations also make great gifts that will be used and admired for long after your Christmas shopping in Dubai is done.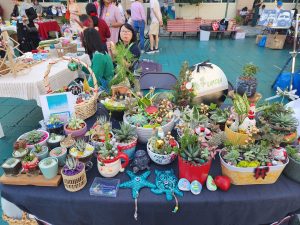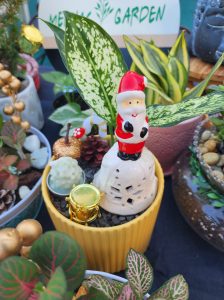 Shweta Srivastava at rtvibes_by_shweta makes gorgeous personalised bookmarks for gifting @ AED 25 each.
Together We Celebrate & Grow!
We have many talented members with creations that are not Christmas-themed but make great Christmas gifts! Let us support each other this festive season and make Christmas shopping in Dubai easier.
Join Homepreneurs Club!
Homepreneurs Club is for Female Entrepreneurs. As a community of women in business and women looking to set up their own businesses, we help each other and lift each other up. The club hosts networking events, webinars, and many more events in Dubai to help you grow.
CLICK TO JOIN HOMEPRENEURS CLUB
Want free tips and tricks to grow your Small Business?
Join our mailing list to receive the latest news and updates from our team.
Don't worry, your information will not be shared.
We hate SPAM. We will never sell your information, for any reason.